I've been sharing some of the stuff I've been working on in the last few months. The other piece that I did for the Sumter Artists' Guild was To Die For. It's a drawing dealing with the extremes that young women sometimes go to to be considered beautiful. I wanted to convey the disturbing things that I have been seeing on television and movies that have been shaping the minds of girls for the better part of the last 50 plus years. Where does beauty end and horror begins? At what point do we give up our humanity to become perfect?
The first step was drawing the main object of the piece in pencil. It was then retraced in ink, and the pencil was erased from the paper. The image is drawn on Bristol Illustration Board. It has a very nice surface, and it holds up well to wet media: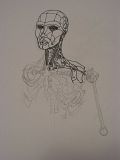 Then some more fine linework was added to the figure and some of the other elements:
After the central piece is finished, the background is started, and I start going nuts. This kind of insanely detailed background stuff is where I lose all sense of time and space. I kind of zone out and create from some place in my mind I rarely deal with:
The piece is then painted. I only added paint to certain portions of the piece to emphasize the difference between reality and the perception of reality in the mind of the subject. This is the final image that was submitted to the show: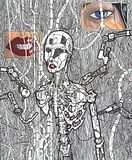 Thanks for stopping in and looking!