I just finished a custom that I have wanted to do since I was a kid (I say "kid", but I was 17 when the figure came out). Mutagen Man was a character from the Teenage Mutant Ninja Turtles toy line from Playmates Toys. I never had Mutagen Man, but my nephew did, and I always thought he was an awesome figure. He was so horrific in concept-- a man twisted by dark science-- a man who unwillingly had to fight the city's heroes to keep himself alive... if you can truly call his existence "life." The idea was always awesome, as was the sculpt of the toy itself. What was not awesome was the lackluster paint job that the toy received. This is what the original toy looked like when it was released in 1990: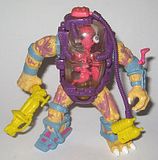 Great sculpt, great concept.... but the paint job... meh.
So when a friend from the October Toys Forum asked me to customize a Mutagen Man for him-- oh, you bet your buttcrack I hopped on it! He had a love for the character that matched the story I had in my mind from day one, so it was a snap deciding how I wanted to approach the figure.
Execution was another story. I have never had a figure put up a fight like this one did! First of all, if anyone ever decides to re-do a Mutagen Man... beware of that clear plastic torso. It is a nightmare. The 20 year old plastic is brittle like you wouldn't believe. I sat there at my desk with sweat trickling down my forehead as I slowly split the two halves apart... two pieces cracked off during the process, but I was able to salvage it. I cannot stress enough for you just how brittle that clear plastic is! I had originally wanted to paint up the innards and suspend them in a fluid, but I knew it would be risky... the figure is going to travel across the ocean, so I have my doubts about it being airtight and staying that way across different time zones/climates. I opted to keep it dry inside with a gunky haze. I left my friend with the option of filling it with water, as the stopper up top isn't glued in place.
The rubbery harness that fits around the figure was a nightmare as well... it seems these old TMNT figure accessories either want to fit the figure too snugly or too loosely. I had to do some alterations to it to get it to fit just right, and it was so floppy and unruly that I decided to glue it in place. Other than those hitches, though, the rest of the process went swimmingly! I love painting these figures, because the sculpts are just so darn nice! They do most of the work for you!
So... I hope you dig it as much as I dug working on it! I give you Mutagen Man 2.0: