Man... this has been a busy, busy, busy month-- and it looks like it'll be busy right on through next month! I just wanted to share some stuff with everyone, so grab a cold drink, sit back, and enjoy the show... there's a LOT to see!!!
_________________________________________
My good friend George asked me to paint up some of those old one inch tall M.U.S.C.L.E. figures from back in the day. He didn't have any particular color schemes in mind and pretty much turned me loose on them. I'm working an another batch of the now! These guys are a LOT of fun to paint up... everyone should give it a shot!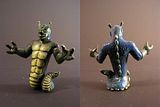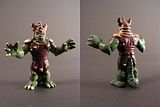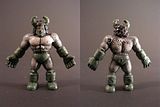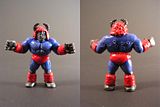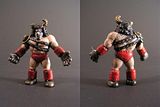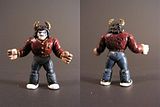 My friend Jamison commissioned me to repaint his Wingnut and Screwloose figures from the original Teenage Mutant Ninja Turtles action figure line produced by Playmates toys. The sculpts on these things are amazing and just beg to be painted. It's a shame that the old toys had such lackluster paint jobs. These guys were a LOT of fun as well. If you have any old, beat-up TMNT figures give em a go with your brush-- you won't regret it!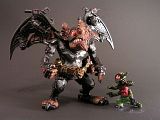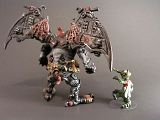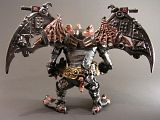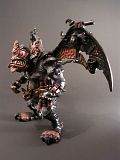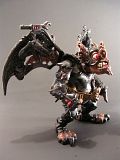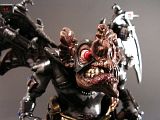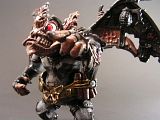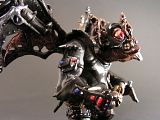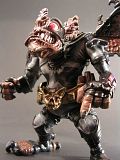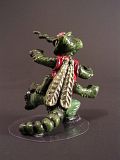 Connor, another friend of mine, asked me to make him a Gaiking Dunny. Gaiking was one of the old Shogun Warriors characters from waaaay back in the 70's. I tried to incorporate the Dunny ears, but decided to just scrap them in favor of the sculped horns. Dunny's make the cutest little heroes!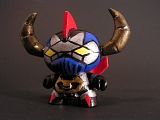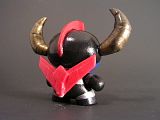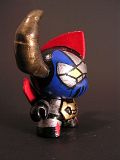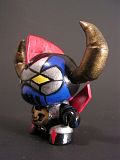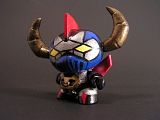 Last (and certainly not least!) are some Glyos customs.
This is Pax, and he's an alien space Marine. The fin on his helmet is a tribute to the mohawks you sometimes see service members wearing in combat.
This is Malec, and he's a cyborg warrior. I used the head from a Johann Kraus action figure from the Hellboy movie line. I added a sculpted brain and lots-o-tubes for all kinda wacky fun!
This is Purge Govurom, and he's a super powered villain. His gauntlets are actually the hands of a Transformers: Robot Heroes action figure. The bulbs in the palms of his hands are made of glow in the dark material.
And this is one of the few customs I made just for my collection. From day one I've wanted a Glyos Ultraman, so I decided to make my own. His eyes glow in the dark!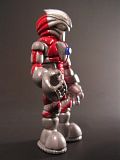 Phew! Lotsa stuff! Hope you had fun looking! Thanks for stopping by!!!!