A few years ago I posted
a blog about a couple of monster coloring books I bought online
. These books were written and drawn by a superb artist by the name of Terence E. Hanley. His first two coloring books were
Monsters and Aliens of America
and
Mothman, Aliens, & Flying Saucers
. Both books are fantastic and fun pieces that harken back to a time almost lost these days... I fondly recall sitting down in the floor coloring in coloring books for hours as a kid. I don't really plan to color these books up because the art is so good as it is. The linework is wonderful and the included biographical information about each monster is a great bonus!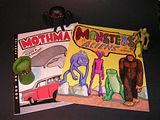 Well, today I received a copy of Mr. Hanley's latest coloring book in the mail. I present to you Monsters from the Mountains, a fantastic look at cryptids and aliens from the mountains of the Eastern United States.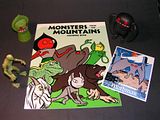 Each page is lovingly crafted by an artist who truly has a love for the subject matter; it shows in each brush stroke!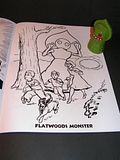 Along with the images there is a section inside the front cover that gives brief histories for each montser in the book. In addition to that, there's a set of portraits on the back cover of famous Cryptozoologists and UFOlogists with biographies inside the back cover! It's a great starting point for doing some fun research about the unknown!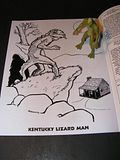 Mr. Hanley was nice enough to autograph the book and included this awesome Mothman sticker! Whatta nice guy!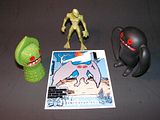 I really don't think any searcher of the unknown can claim to have a full collection without these fantastic coloring books in his or her collection! They are a great introduction to folk stories and legends for kids who love monsters-- and really-- what kids don't love monsters?
Mr. Hanley hasn't set up a webstore just yet, but you can order the books from him directly.
His Blogspot site features all of his available products, and I've included his email address so you can contact him to order books if you so wish. Don't pass up an opportunity to own these super books and support an artist at the same time!