On the way back from DragonCon I stopped at Toys R Us to see if there were any good things on clearance. There weren't. >:(
I did, however, snag this extremely cool guy for 16.99:
MechaGodzilla (or Kiryu, as he's known to our Japanese friends) stands about 12 inches tall and is made of rotocast vinyl. He has 5 points of articulation (head, arms, waist, and tail), but makes up for lack of articulation with a neverending supply of solid awesome.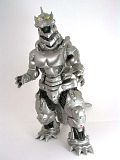 You really can't beat that price, as most 12 inch vinyl kaiju figures (that's what they call giant monsters in Japan) from Japan will set you back easily twice that price. Heck, some 4 inchers can run you 40 bucks. Import fees are a mohfoh!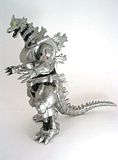 He looks great on a shelf, and looks even better menacing tiny figures.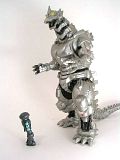 As you can see here, he has already made fast friends with Reverse Pheyden from
Onell Design
.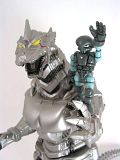 At any rate, I love my Mechagodzilla, and I now want the Godzilla to go along with him. Too bad I live pretty far from the nearest Toys R Us, because that's about the only place you can find these guys!