A few weeks ago I received an absolutely massive box in the mail. It was from an online friend who traded me an
Armodoc
(one of the coolest Onell figures that I had missed when they were released) for work on a toy he had. The package contained the Armodoc, a few extra goodies, and this monster of a toy: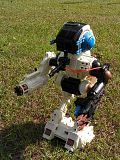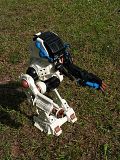 This is the Armorbot, a vehicle/robot from the last few years of the original GI Joe: A Real American Hero line. I think it was called Star Brigade or somesuch. Pete, my online friend, had asked me if I could do some custom work on the Armorbot to make it more Glyos compatable and more authentic-looking-- I was more than happy to, because (A) Pete's a super guy, and (B) this would be the biggest thing I had ever worked on. How could I pass that up?
Pete wanted the cockpit fleshed out a bit, as the interior is super sparse. He added some parts and pieces he thought maybe I could use for cockpit parts. As you can see, the cockpit is rather blah: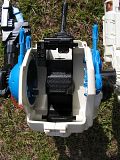 One immediate problem I found is that someone likes this toy more than either Pete or I ever could: my cat, Mae.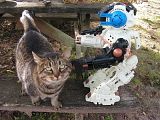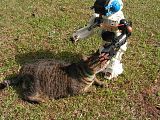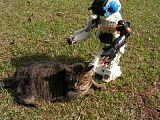 She LOVES this thing. I guess she likes the outstretched claw that's just right to get a scratchin'!!!
Crazy cat.
As you can see in the first two pictures, the legs of the Armorbot are connected at the base so it can glide along on its wheel. However, it has articulation at the hips, so it's a shame the legs can't be posed apart. Pete asked that I fix that, and I was more than happy to do so: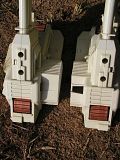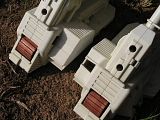 I've been working on little things on it along and along... those pics were from the first few days the toy was here. As I get a few minutes here and there I add a bit or two. I finished putting the parts together for the cockpit and gave it its first few rough coats. All this will be touched up better as it rolls along. I just wanted to put some stuff out there for Pete to see, and I figured I'd share them here with anyone who is interested in working on custom vehicles or whatnot.