What is an Armodoc exactly? This is an Armodoc. It is the latest release from Matt Doughty's toy company
Onell Design
. It is a roughly 5-inch-tall, soft-vinyl action figure that was first released in limited quantities at this year's San Diego Comic Convention. The first run of these guys was something of a smash hit-- not surprisingly, as the fanbase for Onell's Glyos series grows more and more each day it seems. When Matt made the figures available for the internet crowd they sold out within an hour or so. I know, because I watched the thread on the
October Toys Forum
and wept bitter tears. I was, as usual, broke, so I couldn't get one of these wondrous beasties. Priced extremely affordably for a limited run vinyl collectable of this size, the Armodoc sells for $25. The inaugural run of the figure had a little extra surprise for the dedicated fans. I'm not sure if it will be included with the upcoming release, but it was packed in as an extra. At any rate-- the cost of the Armodoc is quite justified without it.
I got mine in a trade with a friend from the October Toys Forum-- a trade for something that followers of this blog will get a chance to see step by step as I work on it. I think it will serve as the biggest custom I have ever made to date. Keep watching this space for something... BIG.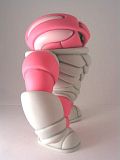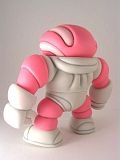 Cute little goon isn't he? Matt always packs a ton of personality into each one of his creations, and this one is probably one of the coolest I have been lucky enough to obtain so far! He's a stocky cuss, and he is a smidge wider than he is tall! This guy is one chunky little dude!
The figure is made up of 11 individual interlinking pieces, and it offers a world of possibilities for building crazy junk. For some awesome stuff Matt has built with the Armodoc, check out his blog! That man never ceases to amaze me with the way his mind works. I'm lucky if I can snap two pieces together!
The figure has 10 points of swivel articulation, but most of the pieces are cut at an angle, so you get a wide range of movement from each. You can pose him all kind of ways, and he looks great in any pose.
Since this is one of the first release figures it came with a bonus extra figure. If you play the
Passcode game
that is on the Onell site, you will see this shadowy, ghost-like Pheyden appear briefly when an Armodoc is destroyed. According to Matt's story, the Armodoc is a creature or robot that is tasked with capturing every Pheyden in the multiverse. When it finds a Pheyden, it defeats him and absorbs him into itself. The result are these burnt out husks of Pheydens. Pretty darn cool extra, if I do say so myself!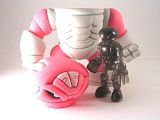 As I mentioned before, the Armodoc figure is made of soft vinyl, so it is quite easy to take it apart and build with it. A standard Glyos figure fits nicely inside the chest of the figure, and I'm sure someone with enough skill could make a spaceship out of the body parts that a Glyos figure could drive.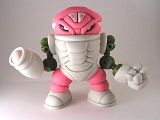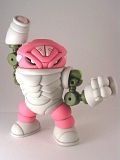 One of the coolest things about the Armodoc is its compatability with the Glyos system parts. The sockets in the Armodoc fit the ball portion of the Gobon blaster like a glove! Once you discover this little tidbit, your building possibilities go up even more!!!
The Gobon is still my favorite Glyos figure, but the Armodoc is definately my second favorite! This is one cool-looking, chunky little guy! He looks good standing next to my Glyos figures, and he's super fun to goof around with. He's very, very, VERY well-made, and, as with all Onell products, he is quite durable and play-ready!
Keep an eye out on the
Onell Design store
, because the new wave of figures, including several new colorways of the Armodoc are coming VERY soon!