I got a package from a very good friend the other day. It was my Christmas present, although I had no idea I would be getting one so early (You sneaky devil!).
I had mentioned to him a while back that my "Holy Grail" toy was the RealxHead Chaos Man II figure. I knew it was out of my price range, so I figured the thing was pretty much an unobtainable.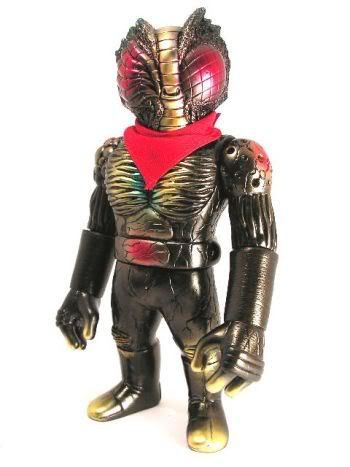 Well... you can imagine my reaction when I opened that box and saw my Holy Grail looking back at me with his big buggy eyes. I couldn't talk for a few minutes. I just sat there looking the figure over like a goon. I sat him next to my Vader Grow and admired him. I posed him and turned his head different ways because, darn it... he looks so darn cool.
So thanks, buddy! You made my day, week, and year!
Now... let's look at this guy:
He's listed on the
RealxHead page
as being Chaos Man II. Some people have taken to calling him "Fly Man." I call him AWESOME.
He's obviously a tribute to Kamen Rider (I'm not sure which one, but I'm sure some of my astute readers can clear that up for me!) with his boots, gloves, and dashing red scarf. He's posed in a dynamic stance that really makes him look AWESOME!!!!!!!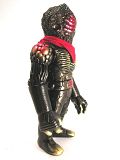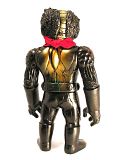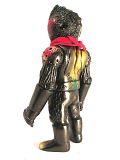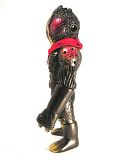 He's more articulated than most RealxHead stuff; he has neck, shoulders, wrist, and waist joints, so you can pose him in all kinds of nifty poses.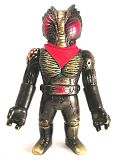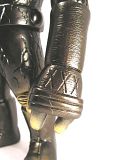 His sculpt is pretty darn sweet, with all kinds of cracks and bubbles on his body and wrinkles on his gloves like leather.
His paint job is so good I can't stop looking at him. The paint is metallic and almost iridescent-- it catches the light in quite a nice manner from every angle.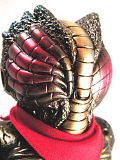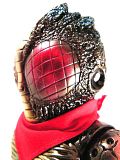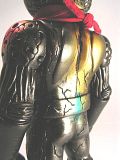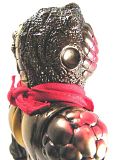 He stands 8 inches tall, so he towers over most of my other vinyl pieces.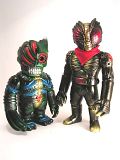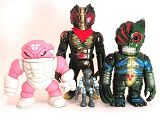 For fun I decided to see how parts of
Onell Design's
Armodoc fit with Chaos Man and vice versa. FUN TIMES!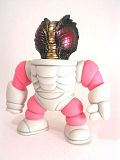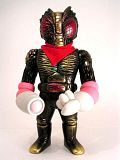 All in all, I think this is one of, if not THE coolest toy I've ever owned. I keep Chaos Man and
Vader Grow
on my bedside table so I can see em before I go to bed and when I wake up. I guess they would scare a lot of folks, but I think they're pretty darn handsome fellows!
Thanks again for my Christmas present, buddy! I can't say that enough! You've been a great friend, and it wasn't necessary for you to get this guy for me, but it is MUCH appreciated! Thanks!