I picked up something pretty cool at the Dollar Tree today. I figured since the theme of today's cheapo toy review was decidedly Marvel, why not have two of our good friends from the Marvel Universe help with showing these bad boys off.
Say hello to The Hulk and Iron Man: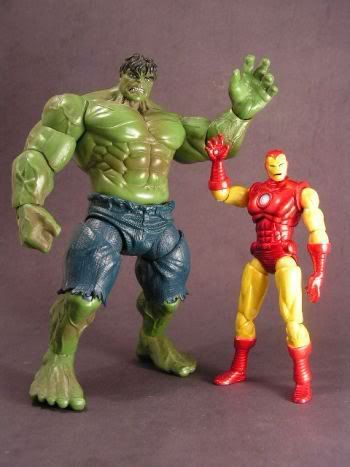 "RAAR!"
"'Sup?"

Today's toys are the Marvel Heroes Ultimate Collection from Preziosi (A company that I know NOTHING about!). They're blind-bagged, but it's not too shabby for a buck! With the multi-lingual and multi-currency packages that don't feature U.S. Dollars, I assume these were European releases originally.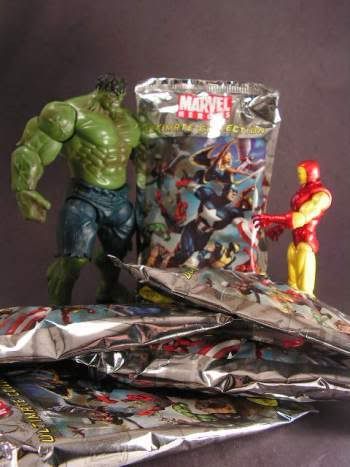 "What in bags, Metal-Man?"
"Not quite sure, Jolly Green. Let's open them up and find out!"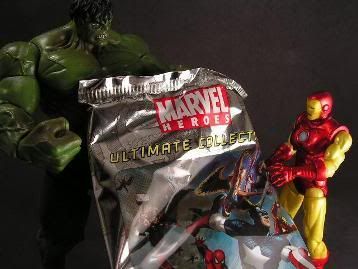 "RAAR! Hulk hope this not like Cracker Jacks!"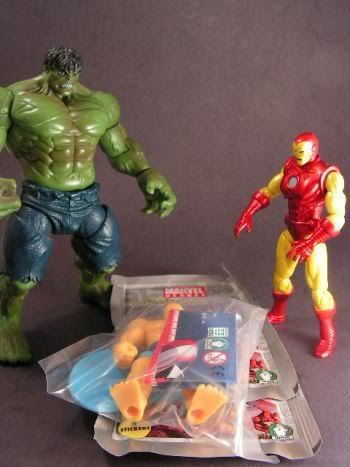 "..."
"TWEAKIN' TRANSISTORS!!!"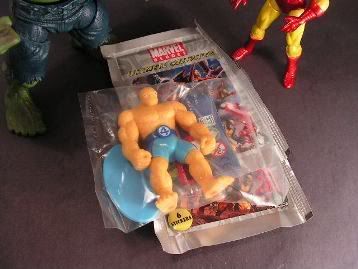 Each package has a mini-figurine with a stand and two packs of stickers that remind me a lot of the old Panini stickers that I used to get when I was a kid. Each sticker pack has 6 stickers, so you wind up with a tidy stack of 12 stickers with each purchase!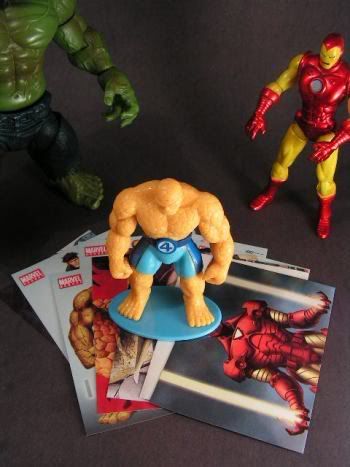 "What this, Metal-Face?"
"Looks like a little toy of the Thing."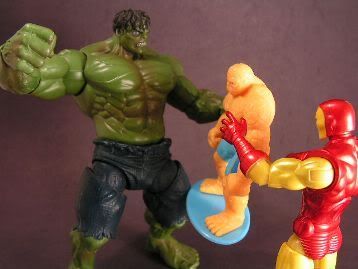 "RAAAR!!! HULK HATE ROCK-MAN!!! HULK SMASH ROCK-MAN!!!"
"Chillax, dude! It's just a toy!"

The Thing stands exactly 3 inches tall. He's really nicely sculpted, and the paint's not bad either. The inclusion of the stand is a really nice touch, but not necessary in his case, because he has huge foots to keep him standing.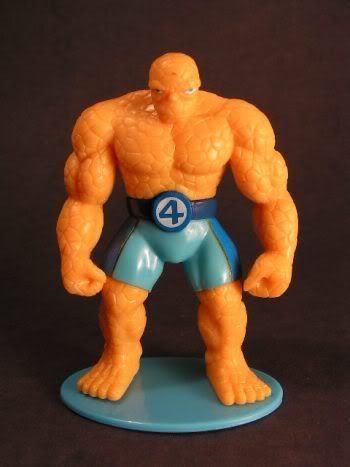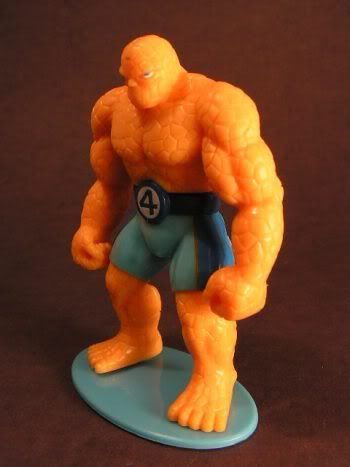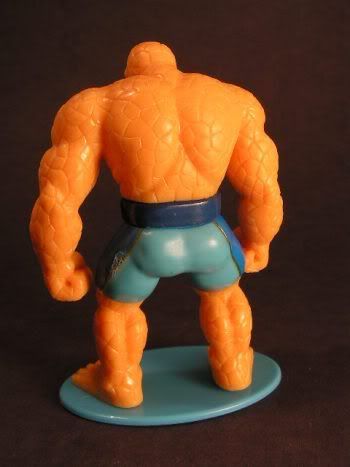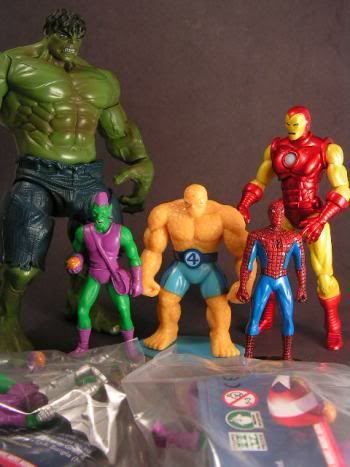 "Hulk collect them all?"
"Well, only if you live in a Marvel Universe that's populated with mostly Green Goblins."

Yeah... out of the 5 I bought, 3 were Green Goblins. That was kinda my fault, because I was trying to feel the figures in the packages to see what I was getting (which is pretty much impossible, because the smaller framed figures feel almost identical through the package. I should have just grabbed the first five that were in the box. No matter... I'll find some use for the other two Goblins-- that or trade/give them away!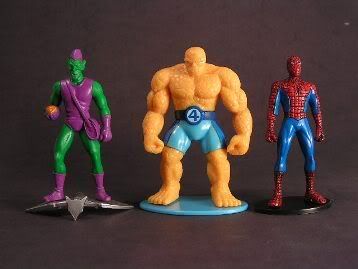 You can see that the Thing really looks nice standing next to the figures scaled to his size. The sculpts and paint on both of the other figures is just as nice as the Thing, with Spidey scoring extra points for having a nice black wash to bring out the web-lines on his costume.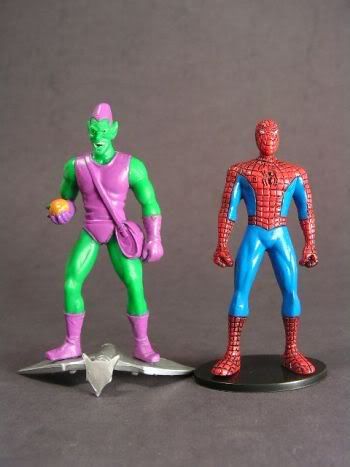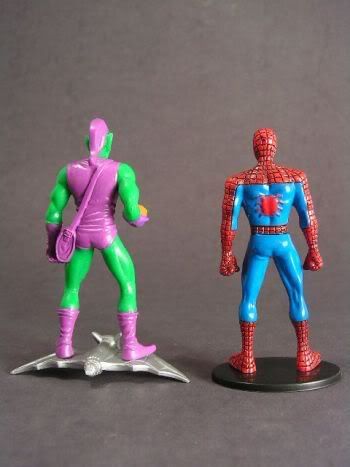 The little catalog that comes with each figure shows that there are 12 figures in the series including The Hulk, Wolverine, The Invisible Woman, The thing, Silver Surfer, The Green Goblin, The Human Torch, Mr. Fantastic, Spider-Man, Dr. Octopus, Captain America, and Iron Man. I'll definitely be going back to Dollar Tree for more of these suckers... I really want The Hulk for my Hulk collection, and the others are really nice. I'm not really crazy about the low number of villains-- I think Doctor Doom and Venom would have been nice in there.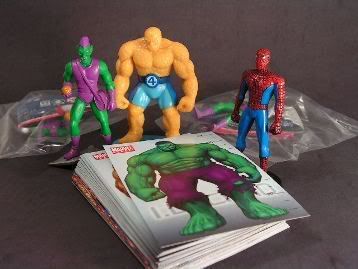 So for 5 bucks you get 5 figures and 60 stickers. Not too shabby at all! The stickers are really nicely done, and are broken up into three types: ID File stickers, shaped stickers with goofy sayings like "Fire and Ice" on an image of the Torch and Ice Man (har, har, bleh), and puzzle stickers that you put together to make one big sticker.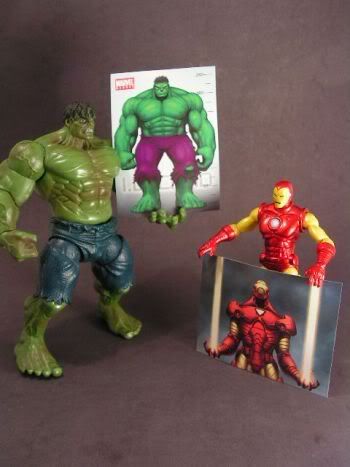 "RAAAAR! Hulk find good poster for wall in Avenger's Mansion!"
"Yeah... I think this one will look great in the foyer!"

So there ya have it! If you live near a Dollar Tree, hit it up to see if they got any of these gems in! You never know what you're going to find at that cheapskate's paradise!