Aha! A box from Hobby Link Japan! I wonder what could be inside???? I better grab a knife to open it!
WHA???!!??!?!??!!!
What's going on????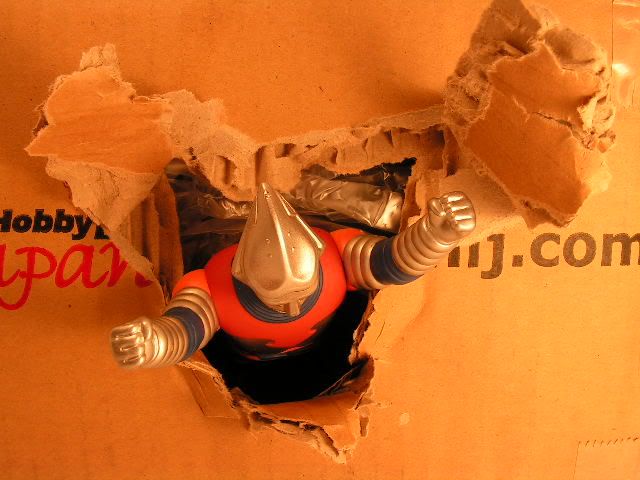 NOTHING CAN CONTAIN THE MIGHT OF JET JAGUAR!!!!!
NOTHING!!!!!!!!!
JETTO JAGA!!!!!!!!!!!
One of my earliest memories from childhood was watching Godzilla movies on Saturday afternoons with my brothers. The youngest of my brothers is 13 years older than me, so I saw a lot of horror movies before I was old enough to even go to school. I loved every minute of it, and my parents would even let my brothers get me up late at night on Saturday nights to watch old horror and science fiction movies with them. I was a horror/sci fi junkie from day one!
One of my favorite Godzilla movies was
Godzilla vs. Megalon
. I loved Godzilla anyway, but this movie featured a new player on the side of the good guys: Jet Jaguar! Evidently Jet Jaguar was the result of a
contest
held by Toho Studios where kids could send in ideas for the next big Toho movie monster star. Jet Jaguar, originally called Red Arone, was the winning entry and Toho planned a movie called
Jet Jaguar vs. Megalon
, but added Godzilla to the mix, fearing Jet Jaguar didn't have star power enough to carry a movie on his robotic shoulders. I tend to disagree, because Jet Jaguar is AWESOME!!!!
I ordered this figure from
Hobby Link Japan
about two weeks ago, and he arrived yesterday. He's a 6 inch vinyl Movie Monsters series figure from Bandai. I've only ever bought one other Godzilla figure directly from Japan, but I don't plan on this being the last one. Japanese vinyl is just some of the cleanest, most well-sculpted vinyl in the world. At $7.64 this was a pretty good deal, considering the same figure regularly sells on eBay for around $20.00 before shipping.
Every detail is present, from the antenna port on the top of his head to the simulated folds in the fabric that made up the costume the actor wore in the movie!
He's articulated in 3 points-- his shoulders and his waist-- but kaiju figures aren't really known for their extreme poseability.
The paintjob is superb! Very little slop, and the areas where red transitions to yellow are blended with an airbrushing of color.
Overall I am very, very, VERY happy with my new addition to my small but growing kaiju collection!