Two-part blog day!!!!
Part One:
Flea Market Finds
I went to flea market today (I needed to get out... I'm starting to grow to the house like coral) and found all this junk for 5 bucks!!!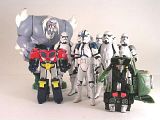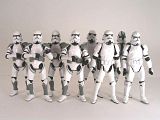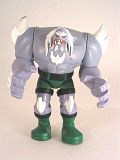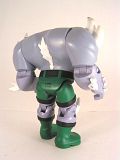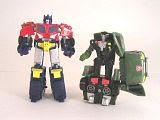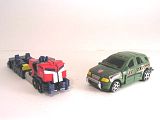 I cannot wait to chop those Clone and Storm Troopers up for customs... WOOOOOOO!!!!!
The Doomsday has some scuffed up paint, but I'll just touch it up a bit... The guy is MASSIVE. He'll look great next to my animated Darkseid figure. I'm starting to build a little collection of guys who hate Superman. So weird.
Part Two:
Something Kreepy This Way Komes
On the
October Toys Forum
member Mad-Hatter's-Neverland asked us toy goons if we'd be willing to make some toy cars based on the "Kub Kar Kit," the Canadian version of the Pinewood Derby held for Boy Scouts. These kits have a chunk of wood, some stickers, 4 wheels and 4 nails with which to attach the wheels. It's a really simple kit that requires some creativity on the part of the kids to make into something fun and neat to goof around with.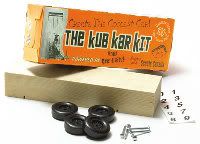 The pieces are for an
art show
he's putting on for his Cub Scouts to encourage them to be creative and inventive. At the end of the show, all the pieces are being auctioned off with the proceeds going to help underprivileged kids afford scouting programs. Such a cool idea!!! I loved it as soon as i read about it!
So here's my little Kreeper! Yes-- there's actually a chunk of wood in there... somewhere...