I've had this piece since Christmas, but I haven't had a chance to snap some pics of it until today. In addition to a really freaky ceramic statue my friend Billy Parker gave me, he gave me a piece he made by hand.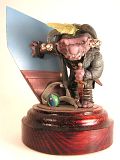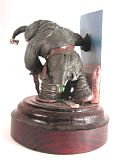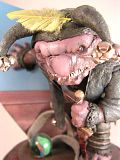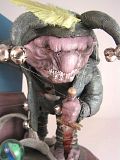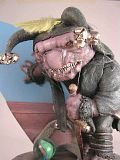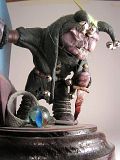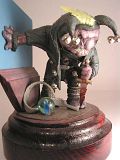 In case you haven't seen the movie Cat's Eye, here's a little idea of what this critter is all about:
In this scene, a Troll (voiced by "Mr. Megatron" himself Frank Welker) attempts to steal the breath of a little girl (Drew Barrymore). A heroic cat named General must come to the rescue!
It's a freaky scene from a freaky movie. My nephews, Billy, and I all dug this movie when we were younger (we still do!), and the troll was always something that freaked us right out. We always wanted to see the troll made into a figure. I think there were some garage kits made, but they're usually pretty hard to find and expensive. Billy made me this troll statue, and I don't think I could be more impressed if the troll from the movie hopped out of my closet.
If I know Billy, he sat at his desk cramped over this thing for countless hours watching the DVD over and over trying to capture every detail-- the guy's a madman with his sculpting skills... it knocks me over thinking that he's only been sculpting for a couple of years now. The figural element of the statue stands about 4 inches tall, and the base stands about 6 or so inches tall. The bells really jingle and he has cobwebs all over him just like the character in the movie (when he makes his first appearance he steps out of a crack in the wall-- hence the piece of wall on the base of the statue). I'm so proud to have this little monster-- I've always been impressed with Billy's raw talent and am always glad to share it with others.
If anyone finds Billy's work as impressive as I do, keep an eye out on my
Etsy account
, as I'll be listing some statues Billy made over there in the next few weeks.