Thanks for all you guys who entered my impromptu Win a Kaiju contest! Not a single entry failed to make me chuckle! It was hard to pick a winner, but I had to go with the one that made me actually laugh out loud-- it kinda caught me mid-sip as I was drinking, and it just worked for me. Sometimes simple jokes are the best ones, so I picked this one for the winner: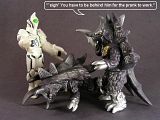 Mysty
, thanks for making me spit my drink at the screen when I read the entry! To me it just fits perfectly with what's going on in the picture.
Email me (
monsterforge@yahoo.com
) your address so that I can send you your prize package!
Thanks again, everyone! You guys are THE best!