A little while back I posted a sketch that I did... I had hoped I'd keep up with my sketching, but I've been too busy with commissions to have time to sketch (I know... I need to make time to do it), but it seems one of my doodles inspired my good friend
Eric Wirjanata
to draw his own version of one of my sketch characters.
The critter in the middle of this sketch: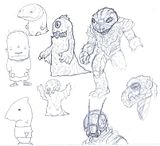 inspired Eric to create this one: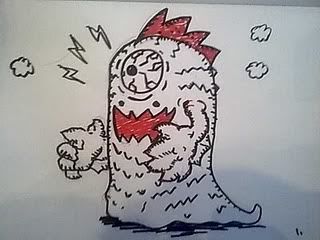 WOW! I don't know about you, but this one knocks it out of the park for me! Eric really took the doodle and made it his own character!
I love Eric's work... he has a talent that has hints of Robert Crumb and Gary Baseman with a unique blend of other influences. You can (and should) check out
his site
to see more of his stuff. Not only is he a great artist, he's a great guy!
Besides... anyone who can make a turd with crab claws look cool is a master in my book: