I got a neat package in the mail today. I got one of Super7's Ghost Land figures by Brian Flynn. In case you don't know what these guys are, it's a blind boxed series of 5 different rotocast vinyl figures in several colorways. They retailed at $15 each when they were released-- if you look around a bit you can get them for a good bit less (I got mine for $8.88). This series was released in 2006, so it's not exactly the newest toy I ever got, but that's OK... it's still pretty darn awesome! The line is centered around the idea that when wayward spirits leave this plane of existence they go on to a place called Ghost Land. Each character has a story about what led to his demise. The characters aren't really kaiju, but you can certainly tell that their roots are in that world.
Check out the package!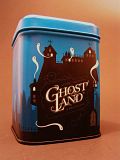 This puppy is made of tin! How crazy is that? How often do you get a sweet box like this with your blind boxed figures? Next to never, that's how often!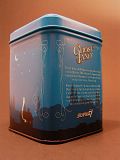 Flynn designed everything about the line from the figures to the box art. It's a beauty of a package!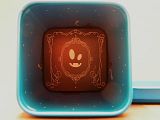 Even the inside of the box features Flynn's characters. WICKED!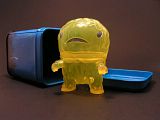 So this is my guy,
BUMP
. According to the pamphlet that comes with the figure, Bump is, "A shy and introverted goliath, his hairy head was the last thing that went bump in the night." Awwwwww!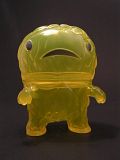 He's such a cute little guy! He's molded in translucent yellow vinyl with silver painted eyes and mouth.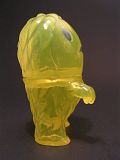 He features one point of articulation at the "neck." Doesn't seem like much, but this style of mini-figure usually only sports the one joint. Think back to when you were a kid... did you really care about thousands of joints on your figures? Nah... you just hopped them along and played like a goon!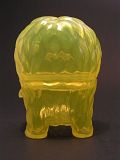 The sculpt is nice and smooth, much like Flynn's artwork. He's not overly cluttered with details-- it's a very stylized look and feel. When you hold this figure it just feels "right" in your hand.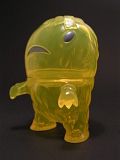 The figure stands 3 inches tall and is 2 inches wide. The vinyl it is cast in is fantastic... it's that thick, dense Japanese vinyl that just can't be topped. Japanese mini-figures this size and quality often cost you 25-40 bucks (and some cost more)... so you're getting a steal of a deal with these guys!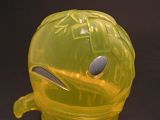 See his widdle boo-boo? How adorable is that? :D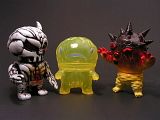 Here you can see how he stacks up to some of his other Japanese vinyl toy buddies.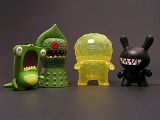 And here he is with some more common figures.
If you have been wanting to get into Japanese vinyl collecting but have been holding back because of the cost, check these little dudes out. They're a steal at this price, and they're pretty easy to find. You might even find them at some online stores on sale. Once you get one in hand you'll be tempted to get more... I know I just ordered my second one! Weeee!