Another toy review? Why not? I don't think it will be a regular thing, but who knows? I guess I'll just review things as I see fit-- when it strikes my fancy, if you will. I'm going to review less expensive items that I get at cut-rate prices mostly. Clearance aisles are your friends, good people.
Today's review? Hasbro's Incredible Hulk Movie basic figure. He's the one with no action feature gimmicks and a big, orange, crappy-looking, metal girder.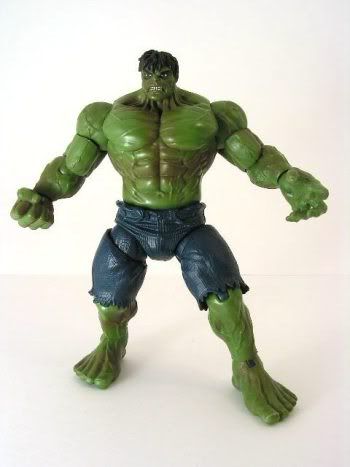 Stats
Toy Line: The Incredible Hulk: The Movie
Figure: Hulk with Steel Beam Weapon
Producer: Hasbro
Action Feature: None
Height: 6 inches
Retail Price: $10.00
Cheapo Price: $3.00
Review
Sculpt:
Well, I have to admit that the first, oh... 2,000 times I saw this guy on the shelf for 10 bucks I could not justify getting him. When I saw him for 3 bucks at Walmart on the clearance aisle, he suddenly started looking a LOT better. The sculpt is pretty basic at first glance. It seems like the standard Hulk action figure... then you start posing him and realize that his sculpt is very dynamic and that his face is very expressive. He has quite a bit of fine detail on his skin and greater detail on the pants and the hair. He has veins popping out everywhere, and matches the look of the movie Hulk in this regard. His hands are the standard "punch 'n' grab" combo. It works quite well here. It's interesting to note that, unlike other Hulk figures, this figure has fully sculpted soles on his feet, so he looks pretty realistic when being posed jumping.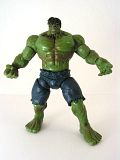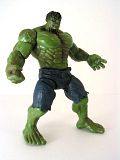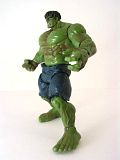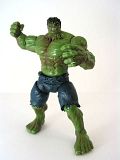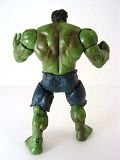 Paint:
Well... the eyes were an issue. I wish I had taken some pictures of the figure before I touched up the paint on the eyes. He kinda had a Marty Feldman thing going on there. One eye was looking East and one was looking West. That was his biggest crime in the paint department. A dab or two of white, black, and green paint fixed that right up, so it's not the end of the world. His body and face have a dark brown wash to make him look like he's been wrestling in poop, I guess. I don't recall that scene from the movie. That said, there were a LOT of deleted scenes, so maybe it happened in one of those. The wash is kinda bad on some of the figures I've seen on the shelves, so I picked the best one I could find. Mine actually doesn't look that bad. I think it goes a long way toward bringing out the details.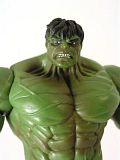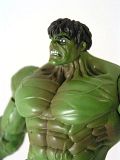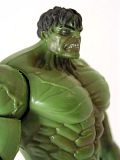 Articulation:
This guy has a buttload of pretty nice joints. They aren't old-school Marvel Legends style joints, but I don't really care for them all that much anyways. I'm a fan of injection molded joints, so I'm quite happy here, as Hulk has around 12 injection molded ball joints throughout the figure. He has around 30 points of articulation altogether. Some of the joints are restricted by his bulkiness, but he has enough useable articulation collectively in each limb that you can get some really great poses out of him. Some folks have had a big problem with his knee and ankle joints because the discs used in them are cast in blue plastic. To those people I say, "Grow up." It's really not all that distracting, and who really cares? If you want a really pretty toy that isn't all that fun to pose and goof around with, go buy a Marvel Select Hulk figure (although that latest one looks REALLY nice and is quite poseable!)
Accessories:
Gah... he has a crappy, soft, plastic, orange girder that splits into two parts. It serves no purpose (unless you want to pretend it's a giant piece of bacon, and the Hulk is hungry) and will go into my junk box along with all the other accessories for which I have no use. That is all.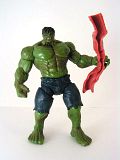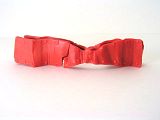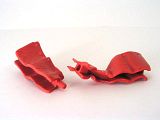 Scale:
This is the MAIN reason I wanted this Hulk. I want to collect some of the Marvel Universe figures (yeah... the ones that no one around here can find... sheesh!), and I absolutely loathe the Hulk that comes in that line. That thing is one of the worst action figures I have ever seen. I know that Hulk is described in the Marvel Universe Handbook as being 7 feet tall, but really... have you ever seen an actual Hulk comic book? If that guy's 7 feet tall then I'm the Queen of France. He's more like 9 feet tall... or more. Sure... the Marvel Universe Hulk looks like he's around 7 feet tall, but he also looks like he's the product of multiple generations of inbreeding. This movie Hulk stands pretty freaking tall, and is scaled to work with 1:18 scale action figures. Just look at him hamming it up with Snake Eyes there. Pheyden's his little alien buddy too. But my point is that he looks absolutely stunning with 1:18 scale figures.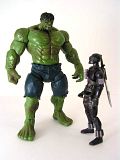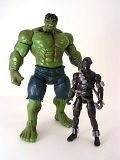 Well... I don't know what else I could say about the guy. He's pretty sweet looking, and if you can still find him on clearance, he's well worth the price. Heck... knowing what I know now, I probably would have picked him up for 10 bucks!