A legend has passed on. Frank Frazetta passed away this afternoon in Fort Meyers, Florida due to a stroke.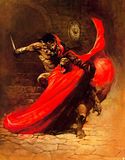 Conan Illustration (1967)
To say that Frank Frazetta was a master of illustration is an understatement. Frazetta could take a simple story concept and make it breathtaking-- more often than not, the books he illustrated were never as satisfying as the images that graced their covers. Frazetta was a true renaissance man, combining so many well-honed talents that it's hard to keep track of the ways he expressed himself. He redefined the art of illustration and reintroduced concepts and themes of classicism to what had been deemed "commercial" or "low" art. Each assignment he turned out from his studio did more than fit the commission he was charged to fill-- it broke the mold and swept away the pieces. Frazetta inspired a generation of young artists who learned that just because a piece was commissioned by a client as a commercial product didn't mean that it had to be anything less than a true work of art.
More than just an artist, Frazetta was a loving and generous husband and father who would have done anything to keep his family safe and happy. His love affair with his life and his family is a true inspiration to young men who desire to be the best they can be for the ones they love.
In his later years, Frazetta endured a series of strokes that rendered his right hand incapable of holding a brush to paint. As always, Frazetta refused to be defeated and taught himself to paint with his left hand. Frazetta was a fighter from early on, and his failing body wasn't going to stop him from creating while he drew breath.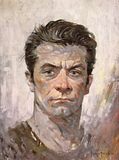 Self Portrait (1962)
Frank Frazetta was many different things to many different people, but he'll always be an inspiration to me to never give up on my own creativity and to love my family like there is no tomorrow.
Goodbye, Mr. Frazetta... may you enjoy the rest you have deserved after your long journey.
You left your family with so much... they will never hunger or thirst, and they will never forget what you gave them.
You left your fans with so much as well... we will always strive to make work of which you would approve.
For more on Frank Frazetta, be sure to check out
Painting With Fire
, one of the best documentaries about an artist I have ever seen. I highly recommend it.