Pheyden and Exellis explore Kawaiiju Box Mountain: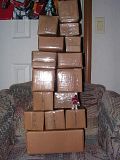 I've been making and packing Kawaiiju boxes all day. I went through two rolls of packing tape today! I have to go get more tape in the morning when the store opens (living in the boonies means no access to any 24 hour stores).
The next fun bit is actually shipping them out!
I'll be sending these out on Thursday.
Thanks everyone for your incredible patience!