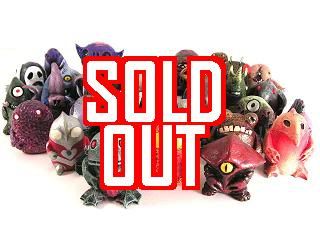 Well... the last of the Kawaiiju have been claimed by kind collectors out there in the real world. I cannot thank all of you enough for making one of my childhood dreams come true. I have always wanted to make toys since the days I would make cardboard monsters in the living room floor to fight my Godzilla toys. You guys who supported me in this endeavor have made me the happiest kid on the planet. THANK YOU!
I shipped off the bulk of the figures today, and the last few purchases will ship out soon.
The lady at the post office looked at me like I was insane (I am) when I came in with that huge box full of boxes. Together she and I filled out all the forms and such, and I managed to ship out 17 boxes at one time. I like to actually take the packages to the post office and send them out that way, because the Click'n'Ship thing adds extra days on the delivery time. My friend who gets waaaay too many packages in the mail figured out that Click'n'Ship adds, on average, about 3-5 days to delivery times. Crazy.
Anyway, just wanted to let everyone know where things were with these figures. Keep your eyes on
the Kawaiiju thread
on the October Toys Forum... I'm sure folks will be showing off their figures and trading them there. I encourage the trading of the figures! It allows you to better get exactly the figures you want, and it introduces you to awesome new people!
If there are any problems with your orders, please don't hesitate to contact me:
kawaiiju@yahoo.com
. I will try my best to make you 100% happy!
Thanks a million!
--Charles (Monsterforge)