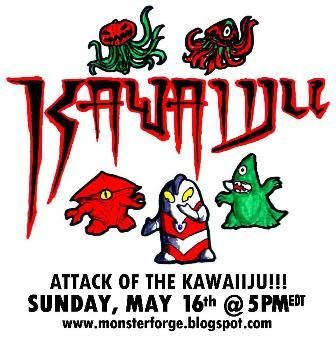 Here is the official announcement you guys have been waiting for! I want to apologize for the massive delays that have surrounded this release, but sometimes you just can't tell what life is going to hand you.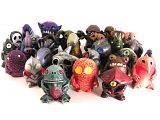 The Kawaiiju figures will be released for sale on
Sunday, May 16th at 5PM EDT
(Check your local times to make sure you don't miss 'em!). At that time I'll post a special email address here where you can email me with the amount of figures you want. The Kawaiiju figures are between 1.5 and 2 inches tall and are individually hand sculpted from polymer clay and painted with acrylic paint. Each figure is a totally unique, one-of-a-kind art piece. Each figure will come blind bagged with a hand-made package and a hand drawn art card. A randomly inserted "Golden Ticket" will allow one lucky customer to win the ultimate Kawaiiju figure, "
Big Daddy
." There are 30 figures in all. Each figure will cost $25 (plus a flat $5 shipping fee in the US and $10 elsewhere).
For more information about the individual figures available in the set and a TON of pictures, check out
this blog post
. be sure to follow
The Official Kawaiiju Thread
on the October Toys Forum where you can discuss the figures and see all kinda funky-fun banter between the good folks there! While you're there, be sure to sign up for the forum and join in on all the crazy-good times!!!
I want to thank all of you folks out there who have been so supportive of the Kawaiiju figures from before day one. I especially want to thank George and Ayleen Gaspar of
Toy Break
who first encouraged me to make these guys available to the public, Phil Reed of
Battle Grip
who has been so much help with getting the word out about these little buggers, and Matt Doughty of
Onell Design
for always being in my corner nudging me along. You guys are all stellar people!
Don't forget! 5PM EDT on Sunday, May 16th!!! Save the date!!!