Here we go! It's time! The Kawaiiju are GO!
And to commemorate the occasion, here's a little comic strip I created for everyone starring those rascally
Toy Break
guys George, Ayleen, and Ben... Enjoy!
Now, to purchase your Kawaiiju figures, send an email with the total amount of figures you want, your name, and your address. I'll go through the emails on a first come / first served basis and send paypal invoices back to you with the total price. Send your order email to:
kawaiiju@yahoo.com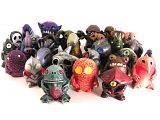 Once again, for clarity's sake: The Kawaiiju figures are between 1.5 and 2 inches tall and are individually hand sculpted from polymer clay and painted with acrylic paint. Each figure is a totally unique, one-of-a-kind art piece. Each figure will come blind bagged with a hand-made package and a hand drawn art card. A randomly inserted "Golden Ticket" will allow one lucky customer to win the ultimate Kawaiiju figure, "Big Daddy." There are 30 figures in all. Each figure will cost $25 (plus a flat $5 shipping fee in the US and $10 elsewhere).
====================================
Now... to get a chance to win your free God Pharaoh, simply post in the
Kawaiiju Thread on the October Toys Forum
what super attack move you think God Pharaoh should have. It can be a cool move or a silly one-- the crazier the better! At midnight (EDT) tonight I'll throw all the names of the posters in a hat and draw one winner.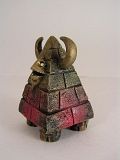 Anyone can enter... you just need to
sign up
as a member at the October Toys Forum-- it's THE best fan forum in the universe, and I think everyone should join and enjoy all the great times we have there.
Thanks everyone for all the support and love for the figures! You guys are THE best!