A few weeks back I posted about
Freak Studios' Fuerza T contest
. To win you had to make an original Masters of the Universe character and come up with a back story for it. If anyone knows me they know I LOVE Masters of the Universe, so I jumped on the contest like a buzzard on a gut wagon. Since the contest is now over I thought I'd share my entry... in more than one way (stay tuned after the pics, and I'll explain):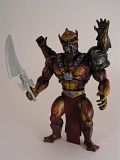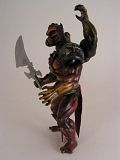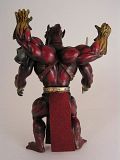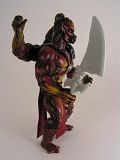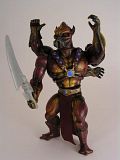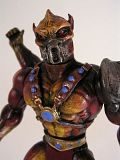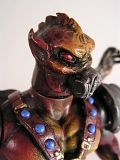 BRAWLOR
Four Armed Master of Combat

Brawlor was an enslaved gladiator on the Dark
Side of Eternia until He-Man broke him free
from the gladiatorum and gave him the choice
to join the evil forces of Skeletor or to become
a heroic defender of Grayskull. Brawlor chose
to join He-Man and has become one of the most
loyal allies that He-Man has ever known. He is
a master of armed and unarmed combat. His four
arms allow him to break any hold and take down
any foe!
__________________________________
So... to expound upon my earlier statement: I won the contest that Freak Studios hosted, and I wanted to pass along my good fortune. I'm going to give you guys a chance to win Brawlor and add him to your collection-- FREE!
"But, Charles... how do we do this???"
I'll explain:
I want you guys to be CREATIVE! That doesn't necessarily mean that you have to be the best artist in the world... I have seen stick men that have made me laugh out loud or contemplate the nature of life-- artistic talent is nice, but creative expression is priceless.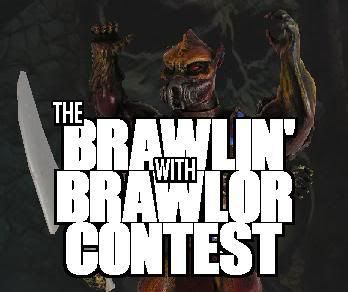 Your task is to create the ultimate arch enemy of Brawlor! Brawlor's an ex-gladiator and slave, so this dude or dudette has GOT to be tough. You can create your entry using ANYTHING. You can make a custom figure using parts of other figures, sculpt it out of clay, glue macaroni to construction paper, draw it on notebook paper, make it out of your own poop and dead skin cells-- WHATEVER!!! If you draw like a monkey on acid you can still come up with the elements of a cool character-- this isn't being judged on artistic skill-- it's all about creating a cool original character (of course, if you have great skills I want to see them!!!).
Along with your creation I want to know why he or she is Brawlor's enemy! It can be serious, weird, or funny, as long as there's a valid reason why your character would hate Brawlor's guts!
Also, you'll need to come up with a Masters of the Universe-style name and descriptive phrase like on the old packages (IE:
He-Man: The Most Powerful Man in the Universe
or
Skeletor: Evil Lord of Destruction
).
I'm giving you a little bit over a month... Sunday, July 11th at midnight is the deadline for entries. You can email pics of your entry along with the character's name and bio (and your website information so people can see your other work!) to me at
monsterforge@yahoo.com
. The main restriction is that there can be only one entry per person (to keep things nice and fair). When all the entries are in, I'll post them on the blog for everyone to see, and on the evening of Monday, July 12th I'll announce the winner!
I'll cover the shipping to WHEREVER the winner lives, so don't worry about anything but coming up with the coolest, most original bad-guy EVER!
Tell your friends, your family, your enemies, your goldfish-- you don't have to be a regular here to enter. What have you got to lose? It's a great way to get a free custom action figure and a chance to get your work out in the public!
Get to work on those entries, guys! I'm counting on all my online friends and you folks I don't even know yet to make this the bestest contest ever! I cannot wait to see what all you guys and gals come up with!!!