The mailbox was VERY good to me today. I got 3 packages, and each one of them made me happy-- no dead skunks this time!
The first package was from
Onell Design
. I bought one of Matt's blind-bagged Glyos Randomizer figures... I wound up with the very one I wanted:
Woo hoo! Gotta love the glowy stuff! Matt's figures just keep getting more and more fun!
The next package was from my good friend George Gaspar, the founder of
October Toys
and an all around cool dude. He sent me one of
his custom Skull Dunnies
-- we traded customs-- I love trading customs! It's such a good feeling to get stuff that someone else made in trade for something I made... it just feels
right
.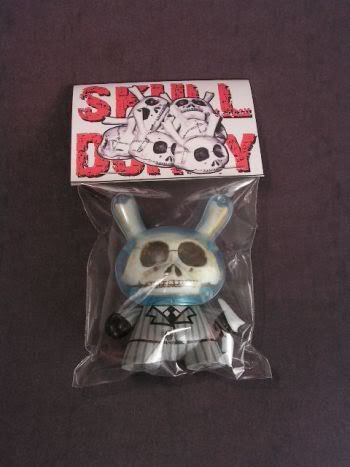 AGH! How cool is this guy?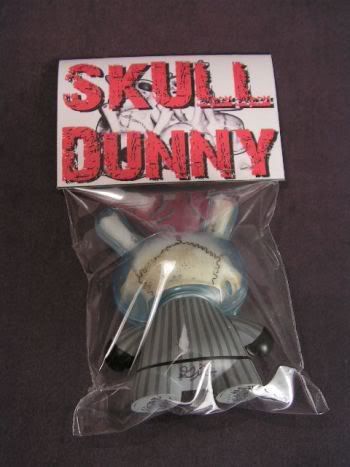 George made his own packaging for this small run of figures.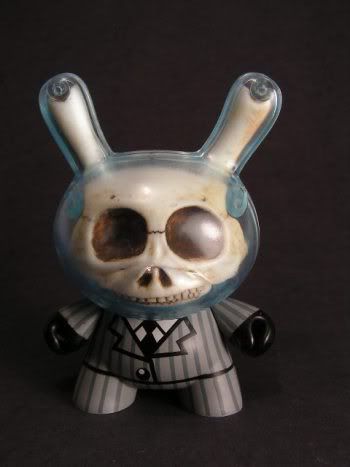 George sculpted a little Dunny skull that fits perfectly inside the transparent head of the Triclops Rain Dunny from the UK series.
He cast up a handful of them and sold them on the October Toys Forum a few days ago for $25 a piece. Needless to say, they disappeared in no time. There's a possibility that he may do another run of them, but there are no guarantees. Bug him if you want some! He deserves all the business I can throw his way!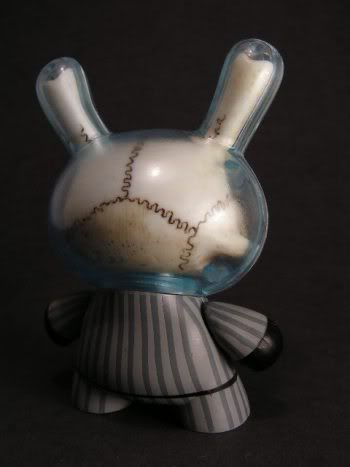 The sculpt is absolutely gorgeous, and it has all the details that make me happy... he even sculpted the sutures and the foramens on the skull! He gave it a light wash that makes the resin look just like bone. A W E S O M E!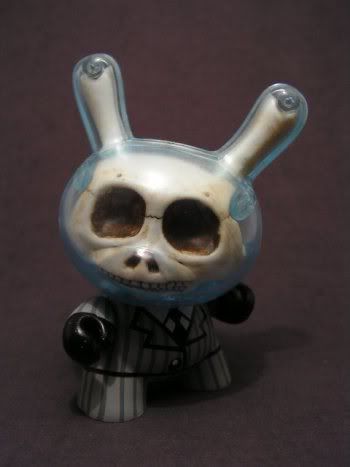 He did such a great job on this little dude... I am QUITE proud to have it in my collection.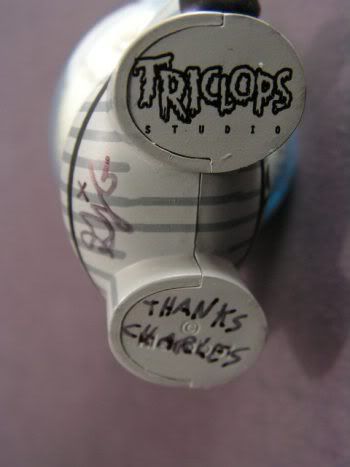 I asked George if he'd autograph my Dunny's butt... he did more than that, he wrote a cool little thank you note. You're the man, George! If you guys agree with me that this Dunny rocks the house, let George know about it! He deserves all the praise he can get!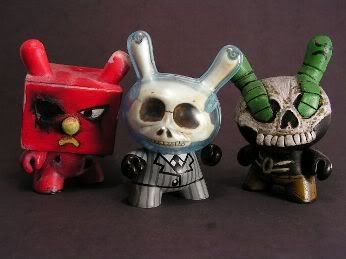 I'm growing a nice little collection of custom Dunnies! The one on the left was made by
NiStuff
and the one on the right is by
Zro
, both members of the
October Toys Forum
. It's so cool having something someone made with their hands... like I said before: it just feels
right
.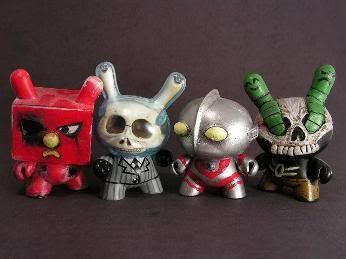 Might as well throw my little Ultra Dunny in there with the rest. I'm not the biggest Dunny fan on the planet, but I LOVE custom Dunnies!
The third package was from
Mill Creek Entertainment
. They're the guys who make those awesome, affordable boxed DVD sets of TV shows like Ultraman and The Greatest American Hero, and they used to make those 50 genre movie sets. I have bought so many Mill Creek DVD sets it's not even funny! I have the Martial Arts Classics 50 Movie MegaPack, and it has some of the most ridiculous movies ever made. If you have never seen
The Impossible Kid
featuring 2'9" martial artist Weng Weng, then you just haven't
lived life to the fullest
.
A while back I added
the Mill Creek Entertainment page
on Facebook to my "Like" list. They have these cool "Beat This Caption" contests every few weeks where they post an image from one of the featured DVD's and you have to come up with a caption for the image. The people who post there come up with some funny stuff, so I was shocked poopless when they sent me a message that I had won! I'm not particularly witty, but evidently what I had posted made someone chuckle. This particular contest was for the
Dungeons and Dragons
complete series DVD set. I loved that show when I was younger, so I was all kinda of happy! Here's the image and the caption I wrote: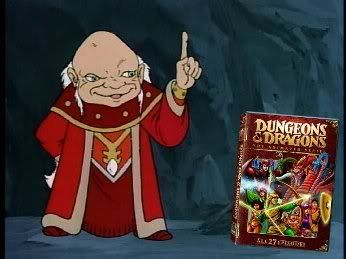 "All the adventurers were impressed with the Dungeon Master's invisible basketball spinning trick until they learned that there was no invisible basketball..."
Like I said... not particularly witty, but hey... y'know.
I was shocked when I got the package from Mill Creek today--- that's pretty darn quick!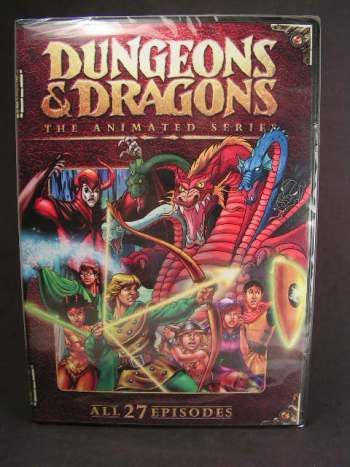 It's a nice set with an awesome illustration on the cover. I love the direction Mill Creek has taken of late, grabbing up more fun TV series instead of the old public domain movies they used to release. I have a crapload of the old horror and martial arts sets, so this is a nice change of pace.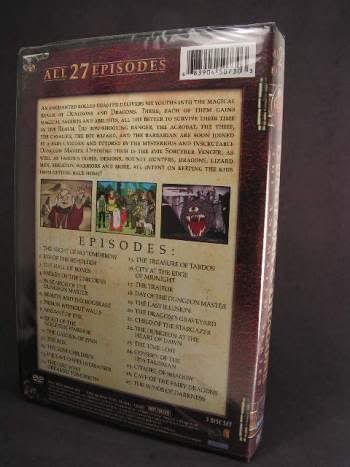 27 episodes... I'm gonna have a lot of fun with that! For Christmas my friend Doug gave me the 2002 Masters of the Universe series that Mill Creek put out, and it was fantastic, so I expect this one will be of similar quality.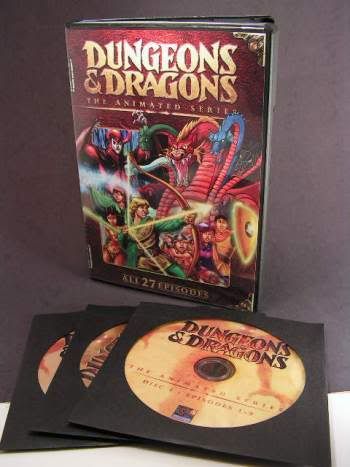 Mill Creek sets aren't fancy, but why be fancy when you can be awesome? This box set retails for $24.95, but I have seen several places sell it for a good bit less. Mill Creek's stuff is good quality at a good price. I reviewed the Ultraman set a while back, and I stand by my love for the affordable, fun DVD sets.
All in all... the mailbox was very kind today!